| | |
| --- | --- |
| Author | Topic: Last movie you watched (Read 787747 times) |
---
I've seen a couple of bit of Spetters without subtitles. The guy who got raped in the ass didn't seem to care all that much afterwards, when you don't know what he's saying.
I agree wholeheartedly though. Funny how people try to talk about being grittier and darker and more adult than Verhoeven, with their PG-13 remakes of his films.
http://badassdigest.com/2012/08/03/badass-hall-of-fame-paul-verhoeven/
A pretty good testimonial to the man.
Logged
---
---
Rollerball (2002)

Within the first few minutes of this film you can easily see the direction its taking and that its gonna be bad. With horrible computer generated images and heavy metal playing straight away its all too clear you are in for a modern piece of crapola.

The first action sequence has 'Jonathan' flying down San Francisco streets on some kind of skateboard thing, kinda like a toboggan or something. Its pointless, bland, completely uninteresting and makes no difference to the plot, just like the entire film. It is there we find out Chris Klein is our hero, playing the role James Caan did so well, what is totally ridiculous is in no way does Klein look like he could be a powerful 'Rollerball' player.

As for the game itself its a horrific mess of over the top unrequired gloss that is completely the opposite from the original material. All the players are decked out in pathetic costumes that look like something from a mardi gras, the women are squeezed into rubber/latex fetish outfits (I quite liked that) and the helmets worn just make you laugh, talk about nonfunctional for the game. Everything in this film is needlessly blown out of proportion whilst also ejecting the entire sterilised political bigbrother type concepts of the first film.

The other hilarious issue with this film, apart from the pantomime like costumes on the players, is the track or arena. The track where the games are held in the original film was a large circular hard surfaced arena like in speed skating (without the ice naturally). In this remake the track is a figure 8 shape with ramps, dips, bumps, high levels and what looks like chutes to skate down, in short it looks like a kids skateboard park cross adventure playground.
This whole concept completely removes you the viewer from the film as there is simply no way the huge amount of players and bikes could fit on this pathetic track/arena. You can see they don't in many shots throughout the film!, its a total fudge up I tell ya, a funny one at that. The action is a horrible muddle of skating, blood, fighting and stupid bike stunts all crammed within this tiny arena, at the same time you have other players skating down from higher levels or platforms for no apparent reason other than to look cool in the film.

Oh and the track/arena had its own rock band on the sidelines to play the right tone of metal to accompany the in-game violence. Do I need to mention how jokey that is? yes...yes I do, it was embarrassingly jokey, just like the oversized helmets some of the players wore.

I understand that the original 77 film had limitations of tech for the era and I'm sure it may have been more stylised and flashy if the creators had the modern benefits this 02 film had. But like many other films ('Star Wars') the limitations of the time proved to be the films winning key, this element like other modern films has been lost completely here.

Instead we are presented with an absolute turd of a film with shockingly bad 'action' set pieces (despite not actually requiring major action set pieces for the plot), dreadful visuals that might as well be that 'Gladiators' TV show complete with glitter and sparkles, a god awful thrash/heavy metal soundtrack just in case you forgot this film was suppose to be tough and your obligatory dire big name cast hot of the heels of other poor major blockbusters (yeah stick him/her in it, big name, can't go wrong, doesn't matter if they actually fit the role or not pfft!).

The finale is a typical example of how less is more. The whole film is an example of how less is more frankly but the ending is so cliched and dumb it was awkward to watch.

A vile modern remake that deservedly flopped bigtime thank god. Its just a shock that McTiernan was behind the camera for this, the man who gave us 'Die Hard' and 'Predator' for fudges sake!.
Logged
---
---
Deathstalker (1983)
Hot on the heels of the Arnie vehicle 'Conan' came this Argentine-American production which quite blatantly jumps on that very same bandwagon.
In all fairness this isn't as bad as you might think. Despite being an obvious excuse to see females topless, a Playboy model as a brutal topless female barbarian, mud wrestling females, enslaved females, thongs galore and the obligatory barbarian sex scenes...there is some natty action to be had.
Cheesy plot you say? errrr yeah just a bit, no need to fill you in, just think of any swords n sorcery films. The main hero is played by Rick Hill and his blonde wig, very nice it is too, but he does look pretty sturdy I'll give him that. Bernard Erhard plays the rather generic evil bald sorcerer with goatee, but his approach is nice and hammy, clearly relishing the role. Dunno what that tattoo on his head is all about.
So not much happens really, the final fight to the death warrior competition is probably the best sequence with reasonable fighting going on. The rest is forgettable apart from the sequence in the castle with all the topless girls, but hearing Hill reel of his dialog is quite good fun.
The films title and poster are far more interesting than the final product. The poster actually has nothing to do with the film in any way really, its just there to lure you in I think. Low budget and camp, if it wasn't for the small amounts of blood and large amounts of tits on show it could almost be an Adam West vehicle.
Deathstalker II: Duel of the Titans (1987)
Look at the poster for this film, its damn cool with a really hot barbarian female, aggressive and looks like some old Amiga computer game box art. Remember the old classic computer game 'Barbarian'? I wonder if they got their box art ideas from these films and the poster art?. Now I look even the font on the text is similar for both, curious.
Now watch the film and you notice some slight differences with what you may have been expecting. Not that you really should be expecting much with this franchise. The cheap cheap low budget sequel to the first film really does earn the label of B-movie in every aspect.
The first film was reasonable but this is dire. The main lead looks the part but acts like a buffoon in lame attempts of badly executed humour. The continuity is gone as 'Deathstalker' is now a different younger actor, not that continuity was probably high on the directors list...or your expectation list either.
As before there are plenty of topless females running around, this is fine hehe, its just a shame they are all running the flimsiest sets you have ever seen. The comedy is in watching the bad acting against the homemade sets, just like good old Ed Wood.
Of course you can't really knock such a film as it was never meant to be a serious major production, although there is care involved clearly. Its nowhere near as good as the first and that was average at best, they actually use many old clips from the first film to flesh out this one. Bad move when you see the characters from the first film, ones that were killed even, errr did anyone check that?.
Deathstalker III: The Warriors from Hell (1988)
Third film and a third different actor as 'Deathstalker'. Probably the least interesting guy in the role so far, he's good looking sure but has a kind of Dennis Quaid look about him which equals a different kind of character.
This guy is a blonde version of the guy in 'Deathstalker II', cheeky and not overly muscular, in short neither are as cool as Rick Hill. Humour is the main ingredient as usual, well that and women's tits, its pretty much business as usual yet again.
The same locations, same costumes and same basic plot of 'Deathstalker' trying to beat an evil leader whilst saving the typically blonde girl. There is a plot about magical stones and trying to bring them back together but the outcomes are still the same. Amazingly the director hasn't used any stock footage for this outing which is nice and probably the only plus point. The adventure here is a bit dull really, action is sparse but production values seem a little better.
Again the films poster is pretty cool but in no way reflects the actual film. The films title is also obscure and doesn't really mean much but I guess it sounds good. First film still reigns supreme for me but people now know what to expect. Not to be taken seriously and gloriously a B-movie of epic proportions, playing on that fact now, by this point the cult status is looming.
Deathstalker IV: Match of Titans (1991)
Rick Hill is back! in this adventure he is up against an evil Queen with plans to rid the land of all the mightiest warriors.
Whilst the competition is in full flow the evil naughty Queen is killing off the warriors one by one (getting them drunk first) so there are none left to rival her. Of course she has forgotten how utterly cool and invincible 'Deathstalker' is and his overly tanned new buddy.
This is probably the second best of the tetralogy after the original film in my opinion. The plot and action is still as you would expect and nothing special but the humour is much better this time. Hill is clearly enjoying himself this time round, he's more buffed and his wig looks better hehe his new warrior friend also adds to the laughs. The guy is almost like an early Dwayne Johnson type sidekick.
Its all still highly cheap and cheesy but by now it would be wrong to change that. Every cliche in the low budget barbarian book is used all over again, blonde women are good, brunettes are bad, lots of tits and ass on show, soft core sex scenes at times and all wizards/wise men have long 'Merlin' type beards. Loved the stone slaves used by the Queen, some dazzling makeup and acting on show there I tells ya.
Still can't work out why they use the exact same archive footage from the previous films. The exact same reels are used! plus it still shows the previous characters that have been killed off!. At least use footage that doesn't show previous characters or footage not used before geez!. Anyway its all hokey as hell but you can forgive that, cult status has been gained somehow and Rick Hill is the man.
Logged
---
---
Barbarian Queen (1985)
Along the same lines as the 'Deathstalker' franchise, no surprise seeing as its another Corman production. Again you must check out the poster for this film, so so very sexy and awesome yet as usual nothing like the actual movie, such a shame.
Set in the Roman era apparently, never noticed myself, the plot revolves around a small band of female warriors and their Queen trying to save the Queens sister from nasty Romans. Nothing really happens for the entire film to be brutally honest and its really rather dull.
Of course there are the obligatory topless scenes for many female characters and some soft porn sexy moments which will keep any hot blooded male interested, but not for long. The finale is pretty good with a semi decent fight sequence within a semi decent set. All the sword fighting is pretty hokey looking but its fun to watch all the extras pretend to be proper swordsmen/women.
End of the day I watched this because of the cool film title haha. Yep I'm a perv, but for what other reason would any male watch this? certainly not for the epic historic storyline or quality acting oh no. Its Corman and its all about big breasted blonde women in skimpy outfits with swords killing men, expect nothing less.
Barbarian Queen II: The Empress Strikes Back (1989)
Not too sure what the title means here, there was no Empress in the first film and the plot doesn't relate in any way to the first film either. Characters are also different to the original film despite starring Lana Clarkson in both.
What we have here is a slight play on
Robin Hood
. A king is killed in battle so his unruly son claims the throne for himself including the magical scepter which is the source of the kingdoms power. The kings daughter (Clarkson) protests this naturally and is marked for execution to get rid of her...naturally. She escapes, joins up with some other female rebel warriors (just like that) and they all band together to win the kingdom back hurrah!
Now I hope your not expecting too much here, you know what this will entail, much like the previous film and all the 'Deathstalker' films. Plenty of tits and ass, skimpy outfits, females killing poorly skilled swordsmen, Clarkson on the rack again topless and errr more poorly skilled baddie swordsmen trying to rape big breasted women (happens a lot in these films).
Pretty much exactly the same as the first film, there's a good rescue scene from the gallows which is similar to the sequence in 'The Adventures of Robin Hood' with Errol Flynn. There is a nice sadistic little girl Princess who is heir to the throne (if Clarkson's character is gotten rid of, the whole point of the film) whom I liked, her spoilt bratty ways are fun to watch as all around her cower.
Just like the first film the finale is way better than the rest with a semi decent sword battle within the castle. Costumes are quite nice in this film it must be said, a kind of Crusades thing going on with the good guys whilst the sets look suspiciously like sets used before haha oh well. The lead male hero in this looks the part too, he actually looks like he could be in a proper film, the same can't be said about the cliched blonde lead Clarkson.
Well by now you will know if you like these films or not, a guilty pleasure possibly, just for a laugh and some naked girlie's perhaps. Not as good as 'Deathstalker' though.
Logged
---
---
Independence Day: Rifftrax: I have to say, the movie isn't that awful IMO. Goldblum is awesome as always, the visuals are cool. It's all in good fun. The Rifftrax is pretty funny, too.

Fantastic Four: Rise of the Silver Surfer: Rifftrax: Moderatly funny Rifftrax, moderately bad movie. This is probably the best way to view this film, though.

TRON: Legacy: Watched it with my nephew. I still love this film. Have to show him the original TRON sometime, now. A.
Logged
---
---
I'm not sure why I don't own Tron on Blu Ray yet...

And I usually just role my eyes when someone says Independence Day sucks. Sorry it wasn't War of the Worlds from the 1950s.
Logged
---
---
Dune (Lynch)

The disc was screwy so I missed about half an hour in the middle there, but I don't think I actually missed anything.

Good golly that wasn't very good. Some of the sand worm effects were great, but so much of the effect work in the movie was woeful. I think I'd like to see the theatrical cut, although I'd be hard pressed to say why. But on Blu-Ray -- the DVD transfer from the TV version looks so God damn bad.
Logged
---
You have to get out of here. Your vagina is haunted.
---
Dune is the textbook definition of the word overblown.
Logged
---
---
Tron Legacy was the first 3D movie I bought my parents when they got their 3D television a few months ago. They were blown away by the visuals. Having seen it in the theaters on its initial release I was impressed with how well it holds up on a 60inch screen. Also must say it's a great overall movie and I love the soundtrack.
Logged
---
Videodrome: Cronenberg is a madman, that's for sure. Wish he'd go back to this kind of insanity. Fun watch, with a lot of still-relevant social commentary going on.

Altered States: I still find it to be a damned good film. It's trippy, it's interesting. Granted the proto-human night of the town scene feels like it's out of a completely different movie, and the ending makes no sense...but meh.

The Fly (1986): The body suit effects are dated, but it's still a great movie that really captures the horror of aging/disease. I am surprised there aren't more movies like this, because it really taps into subconscious human fears. Also, I may have said this before (two seconds ago), but I wish Cronenberg would go back to making movies like this.
Logged
---
---
I'm not sure why I don't own Tron on Blu Ray yet...

My guess would be that it's because it's not very good.
Constantine : For a film that started so far behind the eight ball in reference to it's source material, it was surprisingly good. When I first started reading Hellblazer a couple of years ago I vaguely remembered a movie call 'Constantine'. The more I got dug the comics, the more I went 'Keanu Reeves as a yank Constantine in Los Angeles? What the fuck were they thinking??'
And yet for all the film got wrong, it did an awful lot right. Constantine gets by more on cunning than magic spells and fire power, much like the comic. The version of hell was really some place you did not want to spend all eternity. And the casting of Swinton and Stormare was inspired. Almost ashamed to admit that I ended up enjoying it. Despite Chaz bearing no resemblance to his comic counterpart and the post credits tying up being really dopey.
Logged
---
Videodrome: Cronenberg is a madman, that's for sure. Wish he'd go back to this kind of insanity. Fun watch, with a lot of still-relevant social commentary going on.

At points it almost becomes prophetic:
Soon, all of us will have special names — names designed to cause the cathode ray tube to resonate.
Disturbingly accurate, except it's the internet and not tv that became the arena.
Logged
---
---
Battle Beyond the Stars (1980)

Hot on the heels of a small sci-fi production called 'Star Wars' came this remake of 'The Magnificent Seven' and 'Seven Samurai'. If you haven't guessed the difference was the story has now been set in space.

A Roger Corman production so you might think it would be space trash, but at the time this was quite a big release as sci-fi was popular again. The people involved with this film is actually quite impressive, for one James Cameron was in charge of the effects (mainly models) so this explains why they look so detailed, imaginative and quite good.

The cast for the film is also impressive for the time, looking back they are all your typical B-movie players really hehe. Classic character actor Richard Thomas is the young hero, the legend Robert Vaughn plays a space merc, John Saxon is the evil space villain and George Peppard is the 'Space Cowboy'. Yep he has no name other than that, cos he's coooool.
All are legends in their own right (accept Thomas maybe) but you can't deny all have popped up in some glorious B-movie fluff in their time, film and TV.

The film on the whole is a brave effort and bold with certain ideas. The start of the film seems quite sensible with its 'Star Trek' like score playing accompanying slow camera pans of various spaceships...all very 'Star Trek-ish'. The costumes aren't too bad either, this isn't a 'Flash Gordon' type affair, well not too much. Of course you can see many similarities to other films in both costumes and various ideas but that is pretty inevitable seeing as 'Star Wars' came out in 78.

As the film progresses it does become a tad dull really, the whole time is spent with the hero looking for mercs to save his home planet. This is where the film tends to rollercoaster as some people he meets are pretty good in design, others are not. Take Peppard as the 'Space Cowboy', his ship's interior looks good, its well designed and has a nice Millennium Falcon feel about it, the character himself is cliched but Peppard makes the role work nicely.

Some ships looks good while others look terrible, laser effects are poor and not helped by the quite ridiculous sound effects used. The names used for some of these alien races, planets etc...tend to be rather daft too. Sets vary from scene to scene with the odd one looking nice but most looking rather plastic with merely lots of flashing lights everywhere.

Speaking of the Millennium Falcon, Robert Vaughn's character is a complete 'Han Solo' rip off in my opinion, right down to his boots haha. Other characters like the 'Nestor' and 'Valkyrie warriors' are just your typical B-movie crap frankly. They look like they were designed in the 50's, bad makeup, tacky fake plastic looking costumes and completely childish, real cheap sci-fi. From time to time there are some nice ideas though, the character of 'Cayman' is a nice addition with a reasonable looking reptilian mask.

Oh I forgot...the 'Valkyrie warriors' are stunning women with tight outfits that easily reveal their enormous breasts. Just like it would be in space, what? are you saying there aren't alien races like that?.

The film does get sillier and sillier as it goes on, the ham builds with performances and effects. I loved the evil laughter sequences by Saxon and his mutant henchmen haha classic stuff. A little bit of evil dialog then pause for some evil laughter with your henchmen. The makeup design for 'Sador' actually looks a bit like Ed Wood's 'Plan 9 from Outer Space' with the single face mark, the mark of the baddie.

The film kicks into gear towards the end as we see the final battle between 'Sador' and good guys. Lots of laser gun fights, dodgy space battles with the same model sequences being reused over and over and some great cheesy acting from all.

Its clear to see many influences in this film from classic sci-fi such as 'Star Trek', 'Lost in Space', 'Westworld', 'Forbidden Planet', 'Star Wars' and many films from the 70's. But you have to hand it to Corman and director Murakami as they too have influenced many sci-fi films with this. The whole concept of a 'space cowboy' may well have originated here, if you overlook 'Han Solo'.



« Last Edit: August 13, 2012, 11:17:11 AM by Hubbs »
Logged
---
---
Haywire
I was keen enough to revisit it so shortly after first seeing it and it's held up well.
Ghost Rider: Spirit of Vengeance
They got a cast and crew known for making obscure cult films and tied their hands to make a generic superhero film. Naturally the film is at it's best when taking a trip into the uhm...
incongruous, the MEGA-CAGE outs, the Neveldine/Taylor insanity all great, the rest, eh.
The Campaign
A good comedy, smart enough to be politically inert because ultimately the Leftist or Right ideals are eschewed in favour of the money men's interests, much like what occurs in the film. The reveal about Dylan McDermott's character is fantastic.
EDIT:
One in the Chamber
The second film Dolph-gust, where one new Dolph Lundgren film is released every week of August, culminating in Expendables 2.
This one was pretty solid actually. I guess the closest film you can compare it to, is Assassination Games (Brad Krevoy produced both of them, and they're both about hit men at cross purposes in Prague) and this was far better than that one. Worth watching for Dolph's hammy performance, him out acting an Academy Award winner and his outfits;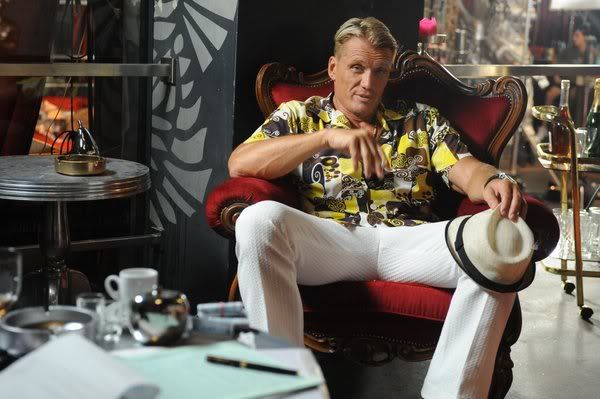 « Last Edit: August 14, 2012, 08:44:44 AM by dude »
Logged
---
---
Brave

Set in 10th century Scotland this is a fairly reasonable attempt at a dark-ish fairytale by Pixar. Its nice to see some originality being used for the fable and a good effort in keeping some realism or historical accuracy, visually at least, at the same time (I think, looks historically fine).

The film looks tremendous, first thing you notice hands down are the visuals. Pixar have really gone to town here and put together some of the most gorgeous vista's I've seen for some time. Scotland has never looked so magical, colourful and enchanting. The rolling greens, rough Highlands, deep dark forests that harbour little blue will-o'-the-wisp's which flitter around and the fiery red hair of the main character 'Merida'.

To be utterly brutally honest this is the films one and only high point, the reason for seeing it. The story is akin to your typical fairytale of witches in the woods turning people into beasts which works well but I found myself growing slightly bored. Yes kids will love it but for adults there isn't really anything that will grasp your attention like certain other Pixar films.
The film is really aimed at young girls which is quite unique really. The relationship between a young girl and her mother, nothing wrong with that, nice angle but ultimately a bit sickly for the blokes.

I found myself liking the characters of 'Merida's' family more, the comical set of stooges from various other clans and 'Merida's' father voiced by Billy Connolly. These guys were good fun and I especially liked the highland games sequence.

The plot was kinda weak and merely revolves around 'Merida' trying to reverse a spell, its not even explained why the witch screws her over with the spell, just does. Its also interesting to note the film appears to have no real villain either, not really no, this creates issues for a kids film like this.

Family characters and the overall sumptuous feast for your eyes clearly the films plus points. The usual high caliber animation from Pixar naturally but overall the story is kinda thin on the ground, even the musical score could have been better if you ask me.
« Last Edit: August 15, 2012, 10:49:58 AM by Hubbs »
Logged
---