right, a nice christmas eve morning and one fresh alien to my collection!. and there might be more to come so, there might be more reviews!
so, here is the Warrior Alien from neca's AvP R series
Pics: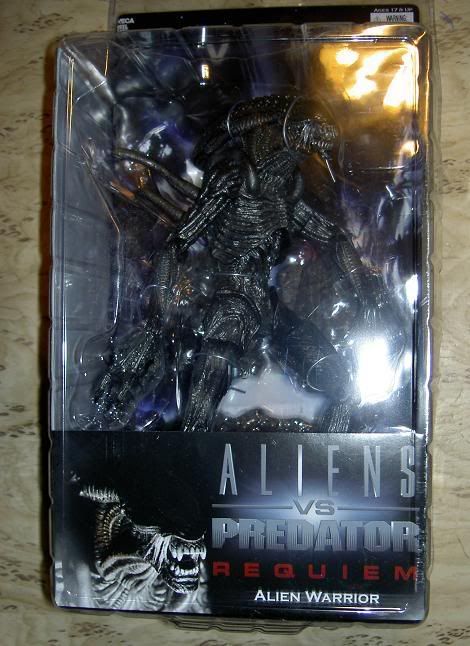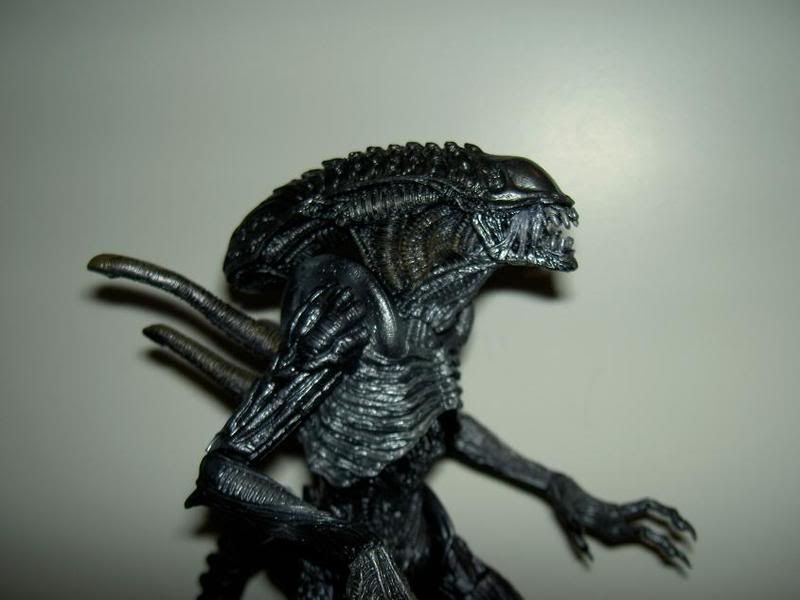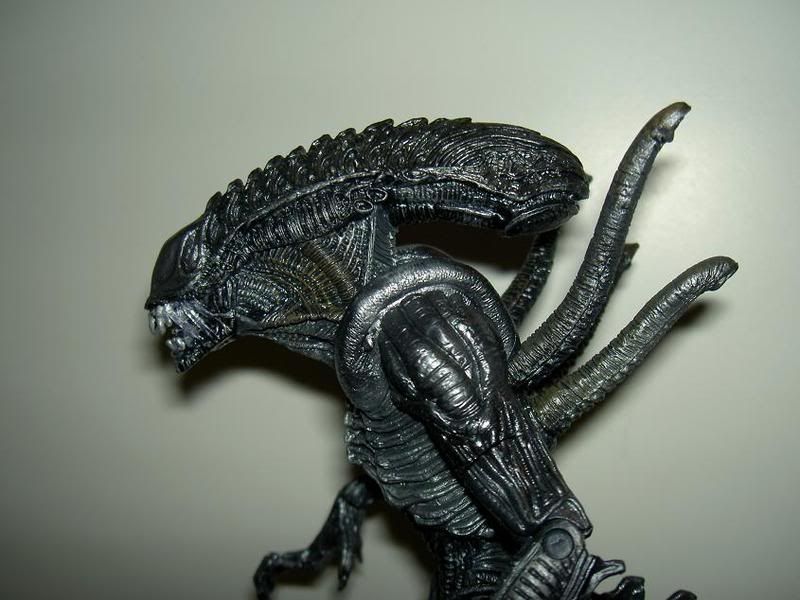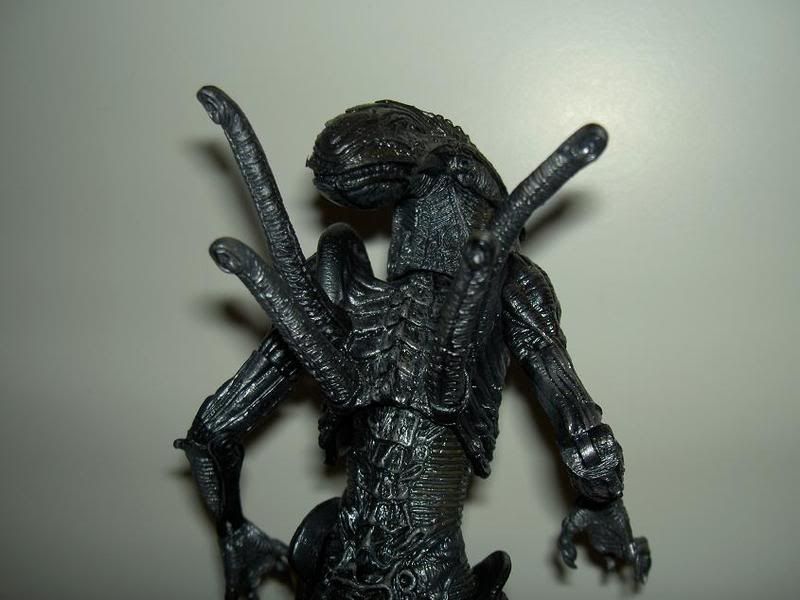 compared to mcfarlane battle alien. i think neca did a awesome job!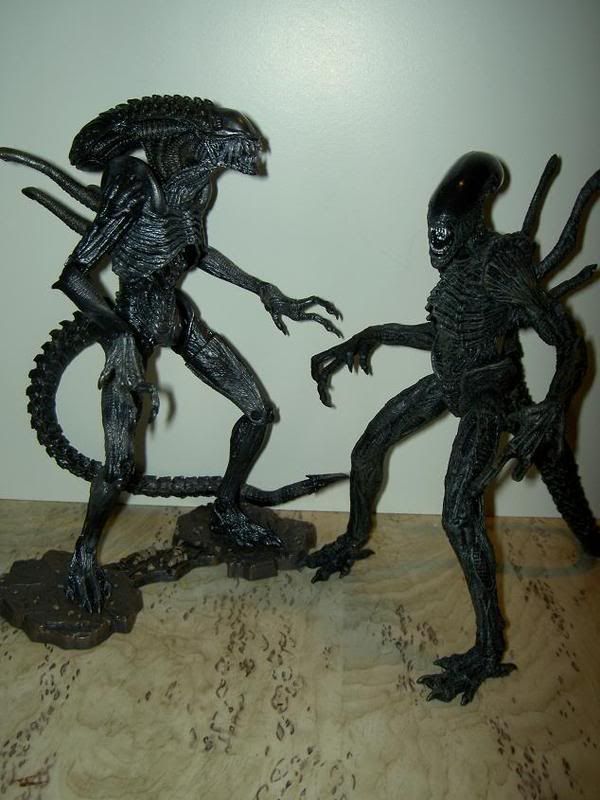 dwarfed warrior standing with my 18" neca alien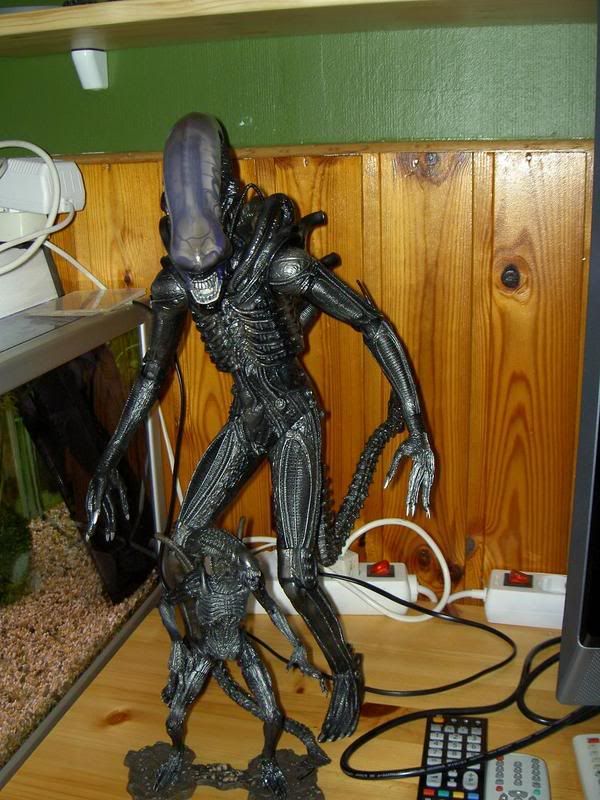 onto the review
Packaging 3/5
the package are nothing special, regular clamshell. but it has nice pics on it and clearly shows the fig. quite tempting design overall. it was easier to cut up than mcfarlanes figs though, and had softer twisty ties, no problem to open it!
Sculpt 5/5
from what i have seen in the avpR movie, this sculpt are very lookalike, a great job all over. if they could make a avp warrior from this sculpt, with a smooth head dome, it would be nice aswell!. the sculpt also don't suffer from all the joints. the mouth inside are very detailed aswell. nothing bad to say really.
Paintwork 5/5
the paintjob are great, it have a dark grey and metallic look, makes it fit well with my Alien fig's aswell with the avp figs. the paintjob are well done, even inside the mouth, and the webbing "cheeks" are clear plastic, which makes a nice effect
Articulation 5/5
the articulation on this figure is great, articulated arm joints, elbows, knees, legs, neck and even openable mouth. altough it cant be opened too far, and not closed fully. but a nice add nonetheless. great poseability in this figure
Accessories 0/5
this part is what this figure lacks, so great on all aspects except this. how hard is it to put a burster or facehugger in the package?. it came with a nice base however.
Value
i got this figure for christmas so i don't had to pay anything, but from what ive seen on the pricing, its a well worth figure.
Overall 4/5
a very nice movie-accurate figure and i reccomend it to any fan of AvP (who likes the alien design anyway). very nice poseable figure, a great add to your collection!.
i hope you enjoyed the review and all the pics!. and i hope to get more figs later today, or if not, i will of course buy the rest of the series later!